As a broadcaster operating in both satellite and OTT spaces, we have exceptionally talented developers who create amazing software that millions of customers use every day (Now TV, Sky Q, Sky Go, SkySports). Whilst the OTT software stack is critical to success, we are reminded that we effectively give it away for free, so that customers can be enjoy the industry's best sports, movies, entertainment and news content on their devices.
I was invited to speak at the Sky Technology Developer conference on the topic of "Why we should all care about Video Quality?". The main focus of my talk was to demonstrate that you need to have an end to end view of the whole ecosystem in place to achieve the quality of experience that our customers expect.
At Sky, we use Conviva to record millions of streaming sessions every day across our OTT clients. This highly valuable data is used to measure the viewing experience and make automatic changes, such as swapping CDN A with CDN B when conditions dictate.
With any OTT streaming service, the ultimate measure of success is to have the technology get out of the way of the customer experience. If we can achieve this, then our business will continue to grow market share and prosper.. Conviva is helping us with this goal and good software integration is critical to ensuring all devices get a consistent experience with four key performance metrics as a minimum;
Buffering ratio.
Average bitrate.
Video start failure.
Exit before video start.
Below, I present what I believe to be the formula for running a successful streaming service; 
Amazing Content + Super Developers + Great Network + Customer Service = Quality.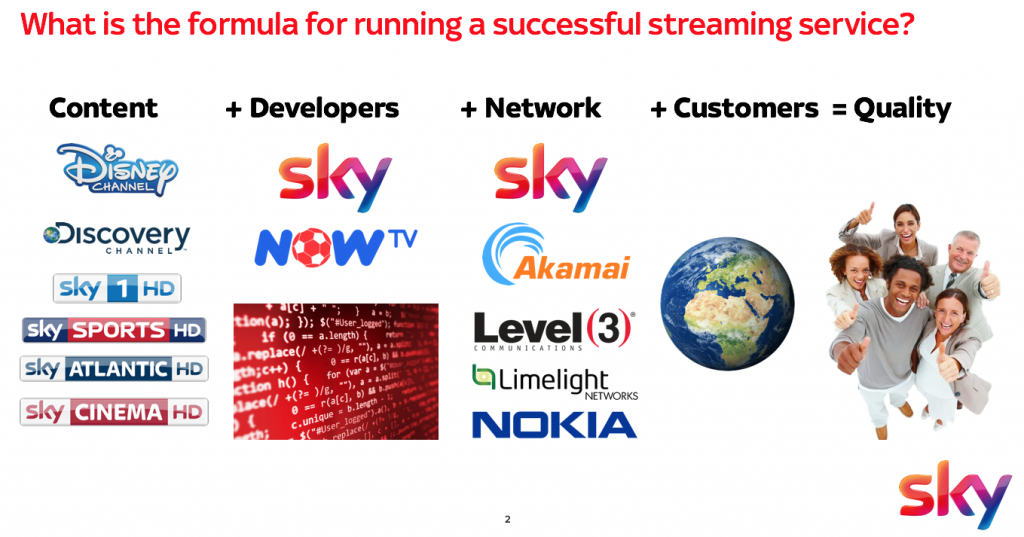 Thank you for reading and I hope you enjoy the talk.
If you have any questions, please leave them in the comments section below.